For medicinal purposes, fish, flaxseed, evening primrose, borage, and black currant oils are the most popular. Black currant, borage, and evening primrose oil are used because they contain gamma-linolenic acid, an omega-6 fatty acid that eventually acts as a precursor of the favorable prostaglandins of the 1 series. However, flaxseed oil is not only less expensive; it may provide greater benefit due to its high concentration of linolenic acid, an omega- 3 fatty acid. The linoleic acid in flaxseed is easily converted to gamma-linolenic acid by most people. Fish oils rich in eicosapentaenoic (EPA) and other omega-3 oils are also quite popular.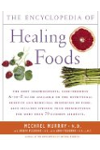 More About this Book
Encyclopedia of Healing Foods
From the bestselling authors of The Encyclopedia of Natural Medicine, the most comprehensive and practical guide available to the nutritional benefits and medicinal properties of virtually everything...
Continue Learning about Essential Oils