There's more to mold allergy than just "an allergic reaction to mold spores." For one thing, it is very common, and any allergy medical history should include a question about evidence of water damage at home, in school, or the workplace, because where water damage goes, mold follows. It must be remediated because otherwise the cycle of medication will be endless. Also, treating mold allergy with immunotherapy is less effective than other allergies because creating extracts for just spores--the allergen--is not very cost effective and no good serum is in production.
Mold is fungus that reproduces through the release of spores carried by the wind. It is these spores that can cause allergic reactions in some people. Symptoms of a mold allergy include sneezing, runny nose, nasal congestion, cough, watery eyes, sinusitis, and itchy eyes, nose, and throat. Mold can grow outdoors on rotting wood, fallen leaves, and in moist shady areas. It can also grow indoors in such places as damp basements, bathrooms, refrigerators, house plants, central air, and mattresses.
In people with mold allergy, the immune system has mistakenly labeled mold spores as a health threat. Mold spores are tiny particles of mold that can be found in the air both indoors and outdoors. When people with mold allergy breathe in air that contains mold spores, their bodies release a chemical called histamine. This chemical leads to inflammation that causes allergy symptoms such as coughing, sneezing, and watery eyes.
Continue Learning about Environmental Allergies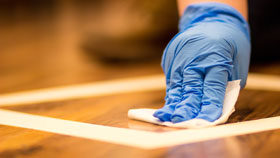 With environmental allergies, reducing your exposure to whatever is irritating you is key. Some people are allergic to household cleaners such as laundry detergent, hence the many varieties of mild detergent. With common irritants ...
like mold and dust, a cleaning routine can help. Reduce mold by removing houseplants, using a dehumidifier, avoiding carpet in the bathroom and cleaning indoor trash cans and shower curtains with a mix of water and chlorine bleach. Reduce dust by replacing carpets with wood or linoleum, removing drapes and feather pillows, regularly vacuuming soft furniture and floors, and washing bedding weekly.
More