Some of the common environmental allergens are tree, grass weed pollens, mold spores, pet dander and dust mites. Environmental changes and cold, dry or windy weather conditions can trigger the release of these spores and pollen from their sources.
Environmental allergies happen when your body's immune system overreacts to a substance in the environment, such as dust mites, pollen, pet dander or mold. Antibodies in your immune system identify the substance as dangerous even though it's often not. To try to protect itself, your body produces chemicals that can cause symptoms of allergies.
Continue Learning about Environmental Allergies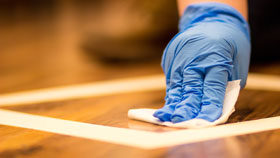 With environmental allergies, reducing your exposure to whatever is irritating you is key. Some people are allergic to household cleaners such as laundry detergent, hence the many varieties of mild detergent. With common irritants ...
like mold and dust, a cleaning routine can help. Reduce mold by removing houseplants, using a dehumidifier, avoiding carpet in the bathroom and cleaning indoor trash cans and shower curtains with a mix of water and chlorine bleach. Reduce dust by replacing carpets with wood or linoleum, removing drapes and feather pillows, regularly vacuuming soft furniture and floors, and washing bedding weekly.
More