The most important thing you can do to manage your mold allergy daily is to reduce your exposure to mold spores as much as possible. Prevent mold growth in your home by using a dehumidifier, cleaning regularly and maintaining good ventilation. Household humidity should be below 60 percent. It's also important to take any medications prescribed to you according to your doctor's directions. Talk to your doctor to discuss any concerns or other treatment options that can help to relieve your symptoms.
Continue Learning about Environmental Allergies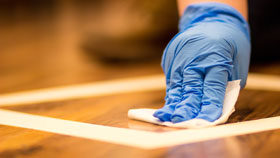 With environmental allergies, reducing your exposure to whatever is irritating you is key. Some people are allergic to household cleaners such as laundry detergent, hence the many varieties of mild detergent. With common irritants ...
like mold and dust, a cleaning routine can help. Reduce mold by removing houseplants, using a dehumidifier, avoiding carpet in the bathroom and cleaning indoor trash cans and shower curtains with a mix of water and chlorine bleach. Reduce dust by replacing carpets with wood or linoleum, removing drapes and feather pillows, regularly vacuuming soft furniture and floors, and washing bedding weekly.
More