The health aura, a collection of foot-long energy rays that flow from our pores, needs healthful maintenance just as much as the inner aura and the chakras. The health aura acts as a "psychic shield," protecting you from other people's negative emotions and thoughts. When you are physically sick, your health rays are weak and drooping, and you are more susceptible to contamination by other people's negative energy, emotions, and thoughts. Having a strong health aura is essential for your physical, mental, and emotional wellbeing. You keep your health aura strong by sweeping or "combing" the health rays with the same two-handed general sweeping posture but with one minor variation: you sweep not with the fingers tight but with the fingers open and extended. Other than that, the sequence is almost exactly the same as general sweeping. Sweeping the health rays is a follow-up technique to general scanning rather than a stand-alone technique. Thus, after you perform general sweeping on your subject, continue with these steps. There is no need to perform the preparation steps if you sweep the health rays right after general sweeping.
Straightening the health rays can have a very rapid healing effect. In class, students are instructed to stand and stretch their back to determine how tight it feels before practicing general sweeping and straightening of the health rays. After only 5 minutes of general sweeping and straightening the health rays, nearly all students report that their backs feel more relaxed, and those who had any back pain report that it is substantially reduced.
Straightening the health rays can also have a very relaxing effect. Pranic Healing student Karla Alvarez was performing general sweeping and straightening the health rays for a woman who wanted simply to relieve her stress. After a few minutes, the woman fell fast asleep. She awoke 10 minutes later refreshed and relaxed.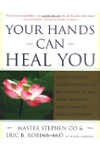 Continue Learning about Effectiveness Of Alternative Therapies