If your baby has eczema because of intact protein allergy, changing your baby's formula to a more broken down formula will help. By taking out the intact proteins which irritate your child's skin, the skin may start to clear. Two good options that are readily available are Enfamil Nutramigen and Similac Alimentum. This may not work, but it is certainly something to try which is perfectly safe for your baby.
In addition, concentrate on good skin care. Stay away from scents and perfumes in your baby's skin products and apply a moisturizer to your baby's damp skin at least once daily.
Continue Learning about Eczema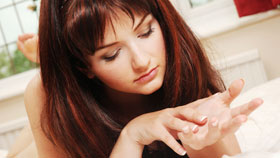 Eczema is a chronic allergic skin disorder that runs in families, resulting in red patches of skin that become extremely dry, itchy and irritated. Learn more about eczema from our experts.