When we give in to a food craving, over eat junk food, or eat when we're not hungry, we're focusing on one thing -- immediate pleasure. Seduced by the promise of pleasure, short-lived though it may be, we don't think about the not-so-nice consequences of our choice. Caught in magical thinking, we pretend that eating pleasure food will give us only what we want -- relief and happiness -- and nothing that we don't want.

We didn't create this habit on our own. Food advertising that stresses taste over health is aimed at the pleasure-seeking part of us and encourages the ego's Child's (pleasure-seeking impulses) way of thinking. It's a myopic perspective that zeroes in on a small sliver of truth about food -- that it often tastes good. Bombarded each day by hundreds of messages about the taste of pleasure food, it's no wonder that our first impulse is to reach for it when we don't like whatever we're experiencing. While pleasure foods in small doses are fine, when they're the cornerstone of our diet, they're costly to our health.

Close your eyes and imagine overeating a pleasure food when you're not hungry. What are the costs and benefits of this choice? We've already established that the Child tempts you by getting you to fantasize about tasting something delicious. But she doesn't tell you about the negative consequences of indulging a pleasure food craving when you're already full.

Overeating when your stomach is full requires a degree of self delusion. In these moments, the Child is in charge because you're considering only taste, not health. You're thinking, "This tastes really nice. I want more of it, even though I'm full." To keep eating when you're full, you have to put blinders on and be willing to see only part of the truth, be willing to say to yourself, "Right now, I'm more interested in immediate gratification than any negative longer-term consequences."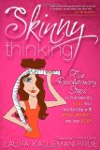 "Giving in" to food cravings is frustrating for anyone. It represents a loss of control. I have found great success in controlling your mind and your environment to aid you to better outcomes.
Look past your immediate desire and play out in your mind how you will feel while eating this "much needed" food and then play out the after effects. How do you feel once your are finished?
A few "rules" I have my clients to focus on is:
Restrict Restriction and Include Inclusion -- Make the act of including indulgences part of our food plan.
Control your kitchen -- Keep temptation out of sight. That means clean the counters and kitchen of "junk" and actually create a scenario where you have to go purchase the items you want so badly. This will act to slow down your reaction.
Know WHY you are eating what you are eating. -- Are you hungry or bored or is it just a habit? Or have you convinced yourself that you deserve it? Play the scenario out to the end again.
Managing food cravings is a simple but difficult process. In my experience, I have seen that most often when an individual makes a emotional judgment and gives into eating when they are not hungry it is often do to temporarily losing sight of their goal(s) and/or continuation of habits.
Try these tips for controlling food cravings:
Develop a mantra. Something like: "I feed my body and my needs, not my taste buds."
Ask yourself questions like: "Why am i going to eat this? Is it because I actually want it and need it or am I reactively responding to an immediate desire?"
Keep focused on your goal. Post it in sight at work and at home and refer to it often.
Drink a glass of water to slow the decision making process down. Water can make you feel a little fuller AND it will give you something to do while deciding if you are actually going to give in to your cravings.
Yours in health,
Robert DeVito
Continue Learning about Eating Habits and Nutrition