Remember to pack healthy drive-time snacks if you have a long commute. It's too easy to pull into a drive-through and blow your calorie count. Keep a cooler in the car to store healthy beverages, fruit, nuts, carrots and celery, for example, as well as a good-for-you lunch.
Here are four tips for sensible snacking when you are on a long car ride:
Stock up on healthy foods to bring in the car that are non-perishable
Portion out your snack.
Stay hydrated!
Avoid eating out of boredom.
Non-perishable snack ideas include:
Peanuts, tree nuts or seeds
Raisins
Trail mix
Fruit cups
Whole grain based bars, crackers, or chips
Fat reduced popcorn
Freeze dried fruit chips
Baked chips
Pretzels
water
When driving for a long time, it can be easy to stop for fast food and unhealthy snacks. Planning ahead and packing nutritious snacks, such as trail mix, granola bars, or low sugar cereal, can make the drive much more bearable and keep your energy level high.
Continue Learning about Eating Habits and Nutrition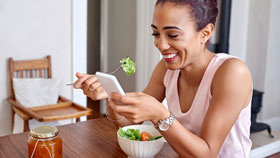 Three meals a day or five? That's only one aspect of the behavior known as eating habits. There is also the matter of style. Do you plan your meals or eat on the run - do you eat when you are happy, sad, or stressed - these are ot...
hers. Recognizing your eating style can help you work to achieve healthier eating habits.
More