Great video Dr. Oz.

I think we can all agree that late night eating is bad but being active is even more important. Sharecare and Dr. Oz viewers for the millionth time probably, "its calories in versus calories out." Manage a moderate amount of calories and move more and you will manage your weight more efficiently.

Also, if we want to get more particular a diet that is more balanced with greater nutrient density (ask me what that means) with adequate amounts of protein, healthy fats, fiber and water will reduce the cravings for late night eating. If you eat early in the day that is balanced and eat frequently throughout the day you will significantly reduce your cravings for food late at night.
Ever wonder whether your late-night eating is taking years off your life?

Watch the video to find out from Dr. Oz how much longer you could live if you stop eating late at night.
Continue Learning about Eating Habits and Nutrition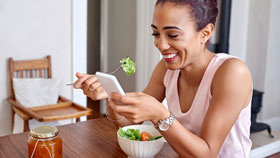 Three meals a day or five? That's only one aspect of the behavior known as eating habits. There is also the matter of style. Do you plan your meals or eat on the run - do you eat when you are happy, sad, or stressed - these are ot...
hers. Recognizing your eating style can help you work to achieve healthier eating habits.
More