To make a healthier snack, reduce the fat and sodium content. A snack can also be made healthier by using whole foods instead of refined foods. Some great snack choices are: fruit kebobs with a Greek yogurt dip; reduced fat cheese, whole grain crackers and raw vegetables; graham crackers and peanut butter; or a homemade trail mix using unsalted nuts, dried fruit, and whole grain cereal. Combining a source of protein and carbohydrate in your snack will help you feel satisfied and fuller for a longer period of time along with better brain power to get you to your next meal.
There's nothing wrong with snacking -- in fact, if you do it right, it can help your diet instead of derailing it. In this video, sports nutritionist and Dr. Oz Show guest Heidi Skolnik tells you the snack foods that will banish hunger pangs and help you lose that extra weight.
Here is a recipe that makes chocolate healthier, while increasing your fruit intake:
4oz bittersweet chocolate
1 cup fresh blueberries
1/4 c of slivered almonds
Melt chocolate in double boiler; Gently mix in berries; put wax paper on a baking pan and place small piles of almonds on the sheet. Drop some chocolate mixture on each pile; Shape into a cluster. Chill for 45 minutes.
Serving size= 1 cluster
35 calories; 2 grams fat; 4 grams of carbohydrate; 1 gram protein.
Recipe from Fall 2010/Winter 11 "The Wellness Advisor."
Dieticians, nutritionists, and researchers will tell you snacking's not all bad. A study published in the Journal of Nutrition titled "The role of snacking in energy balance" noted that frequent small meals prevent becoming overweight and in some cases, we need to rethink if we're actually having a snack or a healthy mini-meal.
Here are some healthy snacking tips:
Have a glass of water before any snack. In many cases, "feeling hungry" is actually a response to being dehydrated. That's why you often feel like you can't eat enough after exercise -- you can't because your body isn't asking for calories, it's asking for water.
Choose healthy snacks -- a small portion of something that's a healthy meal food is a good choice.
Protein snacks help curb your appetite when you really are hungry between meals.
If you're craving a particular treat, don't deny yourself, just eat a small portion, like a fun-size candy bar, four marshmallows, etc.
Continue Learning about Eating Habits and Nutrition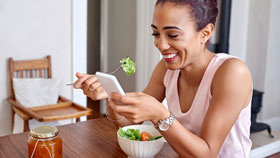 Three meals a day or five? That's only one aspect of the behavior known as eating habits. There is also the matter of style. Do you plan your meals or eat on the run - do you eat when you are happy, sad, or stressed - these are ot...
hers. Recognizing your eating style can help you work to achieve healthier eating habits.
More