Be cautious about most restaurant soups. While soup may seem like a healthy choice, restaurant or takeout soups typically contain much more fat and sodium than homemade soups. The average cup of soup at a restaurant can contain 800 milligrams (mg) of sodium. If you want to eat soup, avoid cheesy or creamy soup options and choose a cup size instead of a bowl.
Continue Learning about Eating Habits and Nutrition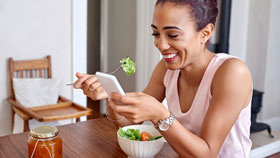 Three meals a day or five? That's only one aspect of the behavior known as eating habits. There is also the matter of style. Do you plan your meals or eat on the run - do you eat when you are happy, sad, or stressed - these are ot...
hers. Recognizing your eating style can help you work to achieve healthier eating habits.
More