Making time for breakfast is very important from a nourishment perspective. To alleviate normal morning pressures, set a morning schedule. I find that this helps keep chaotic early hours organized. Even create chores (feeding animals, taking out garbage, etc.) for other family members so you don't feel like everything is on you. With this, there is more breathing room for breakfast. But don't leave eating decisions to the morning. Determine who will be eating what the night before so planning is not left until the last minute. Even prep a few things like berries, pre cut fruit and vegetables for smoothies, and keep them in the fridge overnight. Granola and some bowls on the counter are also an easy grab in the morning too.
The following time-saving tips are guaranteed to help kids eat a healthy breakfast when they're in a hurry:
Give me five! Reset the alarm clock so that everybody gets up five minutes earlier. The extra time will give kids the few minutes they need to eat a quick breakfast.
Get organized. Each night before school, make sure that everyone's homework is completed and in their backpacks. Also, have kids decide what they want to wear and lay out their clothes before going to bed. Another time-saver is to pack lunches in the evening and keep them in the refrigerator to grab and go.
Ready, set, breakfast! Get ready for breakfast before going to bed. Encourage kids to help you set the table or counter with glasses, dishes, and spoons. Setting out nonperishable breakfast foods such as boxes of cereal, whole wheat bread, and fresh fruit can trim minutes of morning prep time, too.
Tune out distractions. Every minute counts! Turn off the TV and ask tweens and teens to stop texting and put away their cellphones.
Keep quick-to-fix foods on hand. Stock up on healthy, ready-to-eat breakfast foods like instant oatmeal, whole grain cereal, reduced-fat granola bars, whole wheat frozen waffles, whole wheat bread and bagels, bananas, fresh berries, tomato juice, fat-free yogurt, low-fat milk, hard-boiled eggs, and peanut butter.
All for one and one for all. Get up before your kids and make a large pot of oatmeal or a batch of buckwheat pancakes that are ready to eat as soon they enter the kitchen.
Divide and conquer. Give everyone a breakfast responsibility. Somebody pours the milk, another person toasts bread, another scrambles the eggs. Make sure everybody takes turns helping with clean up, too.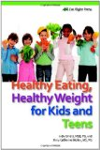 Continue Learning about Eating Habits and Nutrition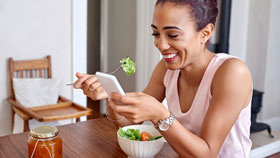 Three meals a day or five? That's only one aspect of the behavior known as eating habits. There is also the matter of style. Do you plan your meals or eat on the run - do you eat when you are happy, sad, or stressed - these are ot...
hers. Recognizing your eating style can help you work to achieve healthier eating habits.
More