One serving equals 1 cup of raw, leafy vegetables; 1/2 cup cooked vegetables; or 6 oz. vegetable juice. Aim for five to seven servings daily.
One serving of vegetables equals 1 cup raw leafy greens or 1/2 cup cooked.

3 out of 4 Americans don't get the recommended daily vegetables. Aim for a minimum of 2.5 cups of vegetables daily. Remember that you can mix and match throughout the day. And that's actually encouraged to take advantage of the wide range of nutrients that veggies deliver.
Most Americans do not meet the daily requirement for vegetables. However, this can be remedied fairly easily once we understand what counts as one serving.
One serving of vegetables includes any one of the list below --
1 cup (8 oz measuring cup) of raw vegetables
1/2 cup (4 oz measuring cup) of cooked vegetables
3/4 cup (6 oz measuring cup) vegetable juice
Using the new USDA icon of the MyPlate is a wonderful reminder to include more fruits and vegetables in our diet.
Here are examples of vegetable serving sizes:
cooked or chopped raw veggies (asparagus, brussels sprouts, broccoli, carrots, cauliflower, celery, cucumber, green beans, leeks, onions, peppers, zucchini): 1/2 cup
corn: 1/2 cup cooked or 1 medium ear
mixed veggies: 1/2 cup
peas: 1/2 cup
raw leafy veggies (kale, romaine and all lettuce, spinach, watercress): 1 cup
squash (acorn, butternut, winter): 1 cup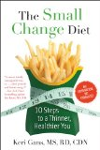 According to the 2010 Dietary Guidelines, a serving of vegetables is equal to 1 cup of raw or cooked vegetables; 1 cup vegetable juice; or 2 cups of leafy greens. The new MyPlate guide categorizes vegetables into one cup servings. One cup is equal to: 3 spears of broccoli; 12 baby carrots; 1 large tomato or baked potato; 1 large ear of corn or bell pepper.
Continue Learning about Eating Habits and Nutrition