My favorite healthy snacks combine protein and fiber since these are the keys to satiety! My favorites are:
Apple with 10 raw almonds
Greek yogurt with chia and fruit mixed in
Whey protein shake
Banana burrito -- 100% Whole wheat tortilla, 1 tbsp. natural peanut butter and 1 small banana; wrap up like a burrito and enjoy!
Protein bar
Raw veggies such as peppers, cucumber, tomatoes etc. cut up and dipped in Greek Yogurt dip!
I generally try to make sure that my snacks include protein in some form so that I stay satisfied and don't reach for more snacks. My current favorite snacks would start with fruit or vegetables. Whatever is fresh in season is the best! I love apple slices with a Laughing Cow Cinnamon Cream Cheese wedge. If I'm looking for a salty snack then I reach for pita chips with hummus or almonds. I also love the Weight Watchers Smoked String Cheese.
Continue Learning about Eating Habits and Nutrition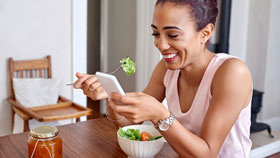 Three meals a day or five? That's only one aspect of the behavior known as eating habits. There is also the matter of style. Do you plan your meals or eat on the run - do you eat when you are happy, sad, or stressed - these are ot...
hers. Recognizing your eating style can help you work to achieve healthier eating habits.
More