The Meatless Monday campaign is focused on convincing the world not to eat chickens, pigs, and other animals -- just one day per week. Scientists involved in the campaign tell us that if all Americans switched from eating chickens and pigs to eating beans and grains for just one day per week, that would stop as much global warming as if everyone in the U.S. shifted to ultra-efficient Toyota hybrids (which is the weekly equivalent of using 12 billion fewer gallons of gasoline). Of course I have to point out the obvious: If we all stopped eating animals completely and shifted to vegetarian foods, that would save 84 billion gallons of gas per week (and all the troubles that go with that kind of consumption).

I know that some readers will argue that the issue is not the meat industry, but factory farmed meat. But in fact, environmentally, all meat requires exponentially more resources to produce than eating grains and beans. And all meat contributes to heart disease, cancer, diabetes, and so on. Some meat may be "less bad," but according to the science, no meat is good.
Continue Learning about Eating and Society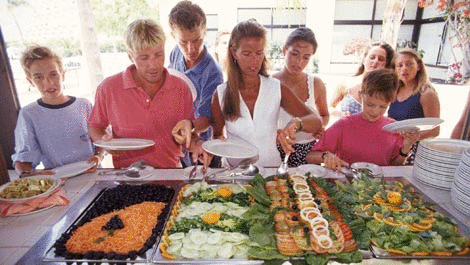 Many Americans are overweight due to a diet filled with high-calorie convenience foods, lack of exercise, large portion sizes and long work hours. The average diet is high in sugar and saturated fat. Many processed foods also have ...
high sodium content. But many of us don't know how to eat healthy. What are some ways in which food production affects our health? Should we learn how food is prepared from other cultures? Learn more about how you can adopt healthy eating habits with expert advice from Sharecare.
More