National Nutrition Month, which is held in March, is a way to celebrate and highlight the work of nutrition professionals, such as registered dietitians, diet technicians, and others working in the field of nutrition. There are usually a number of healthy events surrounding a theme each year, and help people learn that healthy eating can be fun. To find out more about National Nutrition Month, go to www.eatright.org.
National Nutrition Month is an annual campaign every March, organized by the Academy of Nutrition & Dietetics (formerly The American Dietetic Association) to highlight the importance of good nutrition with regard to our health. Each year there is a different theme to focus attention on various aspects of eating with this year's theme being "Get Your Plate in Shape". There are many educational & informative events which take place during this month to provide consumers with sound nutritional advice to help them make informed food choices.
According to the Academy of Nutrition and Dietetics "National Nutrition Month® is a nutrition education and information campaign created annually in March by the American Dietetic Association. The campaign focuses attention on the importance of making informed food choices and developing sound eating and physical activity habits. The theme for March 2012 is Get Your Plate in Shape."
National Nutrition Month® promotes healthful eating by providing people with practical nutrition guidance and focusing consumers' attention on the importance of making informed food choices and developing sound physical activity habits.

National Nutrition Month® also reminds everyone that registered dietitians are their most valuable and credible source of timely, science-based food and nutrition information.
Continue Learning about Eating and Society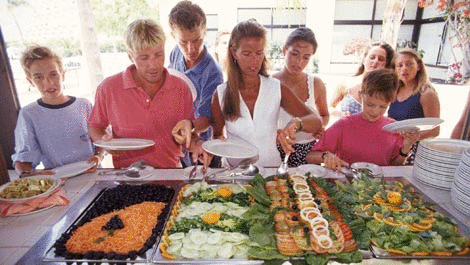 Many Americans are overweight due to a diet filled with high-calorie convenience foods, lack of exercise, large portion sizes and long work hours. The average diet is high in sugar and saturated fat. Many processed foods also have ...
high sodium content. But many of us don't know how to eat healthy. What are some ways in which food production affects our health? Should we learn how food is prepared from other cultures? Learn more about how you can adopt healthy eating habits with expert advice from Sharecare.
More