To get the most nutritional benefits from your diet, and to help reduce inflammation and the risk for disease, fill your plate with colorful fruits and vegetables. Inflammation is linked to a variety of health conditions, including autoimmune disorders, joint pain and heart disease. The antioxidants in fruits and vegetables provide you with protection from inflammation.
Here's a quick color guide with a sampling of the phytochemicals (nutrients) linked to each group:
Orange and yellow fruits and vegetables such as carrots, mangoes, and pumpkin contain alfa and beta-carotene. These phytochemicals neutralize free radicals, which are associated with cell damage.
Green fruits and vegetables such as spinach, avocado, collard and turnip greens contain lutein. Lutein helps to maintain healthy vision.
Red fruits and vegetables such as tomatoes, pink grapefruit, and watermelon contain lycopene, which can help reduce the risks of prostate cancer.
Red and purple fruits and vegetables contain anthocyanins and polyphenols. Some examples are berries, grapes, red wine, and plums. These can help neutralize free radicals, as well as cutting the risk for cancer. Polyphenols can also reduce the risk of heart and eye disease.
White and green fruits and vegetables such as leeks, onion, garlic, chives, cabbage, broccoli, cauliflower and Brussels sprouts contain allyl sulfides. These can boost the immune system and lower LDL ("bad") cholesterol levels.
When it comes to green vegetables, darker colors deliver more nutrients. So if you have a choice between an iceberg and romaine lettuce, select the darker romaine leaves. At least five servings of fruits and vegetables each day are recommended, and seven to nine servings if you are battling cancer or undergoing chemotherapy treatments. And remember to fill your plate with a rainbow of fruits and vegetables. If your plate is all white or brown, that's a problem.
General guidelines to reduce inflammation and the risk for disease:
Eat plenty of fruits and vegetables.
Eat a good source of omega-3 fatty acids, such as fish or fish oil supplements and walnuts
Eat plenty of whole grains such as brown rice and bulgur wheat
Eat lean protein sources such as beans, lentils, legumes, soy products, chicken; cut back on red meat and full-fat dairy foods
Minimize saturated and trans fats
Avoid refined foods and processed foods
Alcohol in moderation
Add a variety of spices, especially ginger and curry
Continue Learning about Eating & Nutrition For Diseases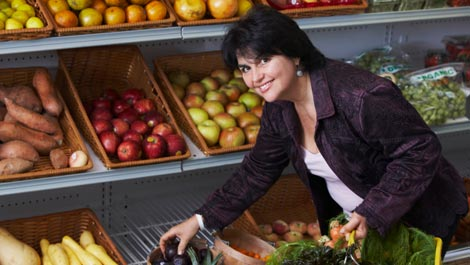 Foods that you consume can be beneficial or detrimental to your health, especially, if you are fighting cancer, living with diabetes or managing pain. Nutrition is essential to your health if you are undergoing cancer treatment. A...
nimal fats, carbohydrates, sugar can all have an impact on pain, inflammation and diabetes.
More