One thing that can help bring timelessness into our lives is rediscovering the sacred in the most mundane and often the most resented ritual of our day: sleep. Insomnia can just be the stubborn refusal of our hyperactive minds to surrender to a temporary nonexistence and yield control for a few hours.
Some years ago, I visited the "sleeping chambers" in Egyptian temples, chambers to which initiates would retire after they had prepared, through prayer and meditation, to receive in sleep divine guidance and inspiration. In stark contrast to the modern habit of drugging ourselves senseless, hoping to "crash" for a few hours before having to face another frantic day, the Egyptians went to sleep expectantly. So sleep was not only a time of rest but of regeneration. From my own experience, I've noticed that when I prepare [cut spiritually cut] for sleep by playing a meditation tape or even by saying a simple prayer, I'm more likely to access remnants of my dreams and memories from my night's travels.
Dreams show us how much exists beyond our conscious mind. They have their own logic, their own vocabulary. They are like visits from the great beyond. As we connect to our dreams, we connect to a source far greater than even the most brilliant minds.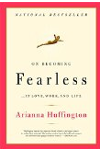 More About this Book
On Becoming Fearless...in Love, Work, and Life
Observing that her own teenage daughters were beginning to experience some of the same fears that had once burdened her--how attractive am I? do people like me? do I dare speak up?--Arianna...
Continue Learning about Dreams and Nightmares