The likelihood of having a second child with Down syndrome is 1 in 100. The risk is higher if the mother is over 40.
Once a woman has given birth to a baby with trisomy 21 (nondisjunction) or translocation -- two of the three types of Down syndrome -- it is estimated that her chances of having another baby with trisomy 21 is one in 100 up until age 40.

The risk of recurrence of translocation is about three percent if the father is the carrier and 10 to 15 percent if the mother is the carrier. Genetic counseling can determine the origin of translocation.

This content originally appeared on the National Down Syndrome Society website.
Continue Learning about Down Syndrome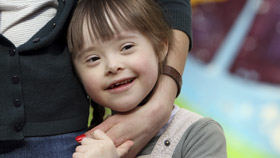 Down syndrome, or trisomy 21, is caused by the presence of a third copy of chromosome 21. The risk for Down syndrome is higher in babies of mothers older than 35, who are more likely to have abnormal eggs that may lead to the cond...
ition. Common symptoms include problems in growth, hearing, vision and immunity, along with problems of the thyroid, heart, muscles and nerves. The severity of these symptoms varies from person to person.
More