Speech therapy can help children with Down syndrome communicate and use language more effectively. Often children with Down syndrome learn to speak later than their peers, though they may understand language and have desire to communicate before they are able to speak. Speech therapy can help them develop early skills they will need to speak (such as imitating sounds and strengthening muscles used for speech) as well as find alternative ways to communicate without words (e.g. sign language or pictures).
Speech therapy is often recommended for children with Down syndrome (DS) because of the challenges they may face in coordinating the actual movements (or physical processes) to communicate as well as to understand language and produce coherent messages (cognitive processes). Children with DS may have the desire to speak but need help in putting all the factors together. Speech therapists can evaluate children to determine their strengths and weaknesses when in comes to communication. They can create a plan to encompass areas of need, such as receptive (understanding language) and expressive language, grammar and vocabulary, when and how to use language, as well as oral motor (the physical aspects of creating language) issues.
Continue Learning about Down Syndrome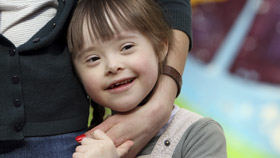 Down syndrome, or trisomy 21, is caused by the presence of a third copy of chromosome 21. The risk for Down syndrome is higher in babies of mothers older than 35, who are more likely to have abnormal eggs that may lead to the cond...
ition. Common symptoms include problems in growth, hearing, vision and immunity, along with problems of the thyroid, heart, muscles and nerves. The severity of these symptoms varies from person to person.
More