Physical therapy may be beneficial for children with down syndrome for multiple reasons. For starters, children with don syndrome tend to have low muscle tone and a difficult time building tone and strength. PT would help improve this muscle tone and help the child to build strength quicker than developing on ones own. This would lead to quicker development of motor functions, such as walking or getting dressed. PT is also a great way to help introduce a child with down syndrome to social activity and to close interation with other individuals, both of which have been shown to help with the social and behavioral development of a child with down syndrome.
Physical therapy is often recommended for children with Down syndrome (DS) to help counteract delays associated with gross-motor movements and activities (like crawling, walking, and jumping). Children with DS might have difficulty with such activities because of poor muscle tone and strength, among other factors. Physical therapists can help children build muscle strength, improve coordination, and practice the movements they need to get around, play sports, and participate in life's activities.
Continue Learning about Down Syndrome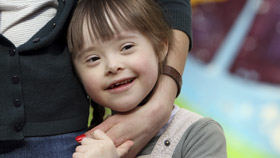 Down syndrome, or trisomy 21, is caused by the presence of a third copy of chromosome 21. The risk for Down syndrome is higher in babies of mothers older than 35, who are more likely to have abnormal eggs that may lead to the cond...
ition. Common symptoms include problems in growth, hearing, vision and immunity, along with problems of the thyroid, heart, muscles and nerves. The severity of these symptoms varies from person to person.
More