Participating in a support group of parents with down syndrome, regular check ups with your primary care doctor and paying close attention to new developments in your child. Also subtle changes in your child's behavior may be a clue to new developments or symptoms in your child's health. This may be your child's only way to express to you that they are not feeling well.
Down syndrome is a disorder related to a number of physical and cognitive conditions. The type of conditions present will determine the best course of action for managing one's health. For instance, several conditions are chronic, such as hypothyroidism, and would require daily medication. Others are geared toward certain stages of child development and may require the help of therapists to assist children in meeting communication and movement milestones during the early years of life.
No matter what conditions are present, it is best to seek out specialists who have had experience with Down syndrome and who can help a patient maintain general health and wellness.
Continue Learning about Down Syndrome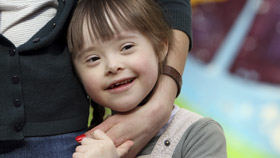 Down syndrome, or trisomy 21, is caused by the presence of a third copy of chromosome 21. The risk for Down syndrome is higher in babies of mothers older than 35, who are more likely to have abnormal eggs that may lead to the cond...
ition. Common symptoms include problems in growth, hearing, vision and immunity, along with problems of the thyroid, heart, muscles and nerves. The severity of these symptoms varies from person to person.
More