Newborns with Down syndrome need the same thing as other babies: lots of love. Babies with a heart defect may need oxygen through a tube in the nose, or they may need surgery. Some infants with Down syndrome may not need any special medical treatments at all. They will need regular medical checkups and may need to see doctors who are specialists as well.
If no other underlying medical conditions are present, then caring for a newborn with Down syndrome (DS) is more similar to caring for any newborn than it is different. Like any baby, loving and nurturing care is crucial for growth and development. Having said this, some babies with DS may have trouble feeding because of low muscle tone in the mouth and face. Speech and occupational therapists can show you some techniques to support your child while nursing or taking a bottle.
Continue Learning about Down Syndrome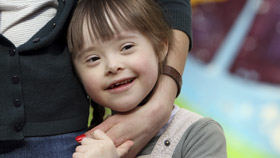 Down syndrome, or trisomy 21, is caused by the presence of a third copy of chromosome 21. The risk for Down syndrome is higher in babies of mothers older than 35, who are more likely to have abnormal eggs that may lead to the cond...
ition. Common symptoms include problems in growth, hearing, vision and immunity, along with problems of the thyroid, heart, muscles and nerves. The severity of these symptoms varies from person to person.
More