Ultrasound alone cannot diagnose Down's Syndrome, however there are features which can be "soft markers" suggestive of Down's Syndrome. These include increased nuchal translucency, short femurs, and abnormalities of the heart, bowel and kidneys.
An ultrasound sometimes can indicate an increased chance for Down syndrome, but it cannot identify all babies with Down syndrome.

Continue Learning about Down Syndrome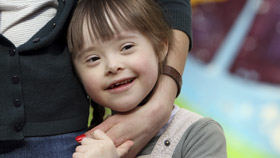 Down syndrome, or trisomy 21, is caused by the presence of a third copy of chromosome 21. The risk for Down syndrome is higher in babies of mothers older than 35, who are more likely to have abnormal eggs that may lead to the cond...
ition. Common symptoms include problems in growth, hearing, vision and immunity, along with problems of the thyroid, heart, muscles and nerves. The severity of these symptoms varies from person to person.
More