Because diverticulosis is uncommon in regions of the world where diets are high in fiber and rich in grains, fruits and vegetables, most doctors believe this condition is due in part to a diet low in fiber. A low-fiber diet leads to constipation, which increases pressure within the digestive tract with straining during bowel movements. The combination of pressure and straining over many years likely leads to diverticulosis.

Diverticulosis (sometimes called tics) is simply potholes in your colon. We really don't know what causes colon potholes; but civilized societies deficient in whole grain foods have a higher rate of diverticulosis. In fact almost half of Americans over 60 have diverticulosis, so you are far from alone.


Continue Learning about Diverticulitis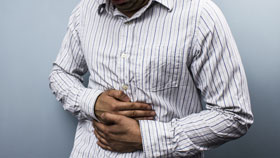 Diverticulitis occurs when diverticula (small, bulging pouches in the digestive tract) become infected or inflamed. Some signs of diverticulitis include severe pain, bloating that persists for weeks, constipation and blood in your ...
stool. Treatment includes changes in diet, antibiotics and surgery.
More