Although the changes in the colon from diverticulosis are permanent, a diet high in fiber and oral fluids likely prevents or slows the progression of diverticulosis. There is inadequate evidence relating to whether a special diet reduces attacks of diverticulitis, while with some individuals such attacks are linked to the ingestion of nuts and seeds. If this has been your personal experience, avoiding or moderation with these triggers may be a judicious approach.
Following a special diet won't reverse the presence of diverticulosis, but many theorize that diverticuli – pouches or sacs in the intestinal wall – occur from a Western, low-fiber diet. Even though evidence supporting this theory is sparse, many physicians recommend following a high-fiber diet to reduce symptomatic flare-ups or complications. Scheduling a counseling session with a local nutritionist on fiber-rich foods has no downside and will probably even improve overall health.
A common misconception is that nuts and seeds will aggravate diverticulosis causing painful inflammation resulting in diverticulitis. This is not true, and patients with diverticulosis are not at any increased risk from eating sesame seeds, strawberries, tomatoes, or nuts. Many people believed such small particles would clog diverticuli and cause inflammation. During a colonoscopy, physicians often find stool within diverticuli, not seeds.
Diet for Diverticulosis:
A high fiber diet and dietary fiber supplementation is recommended to prevent diverticular formation and recurrence of symptomatic diverticulosis. Recommended dietary allowance for males over 30 years of age is 30-38 g/day, and for females over 30 years of age, it is 21-25 g/day.
Previously there was a concern that indigestible nuts, seeds, corn, and popcorn would irritate a diverticulum and possibly result in diverticulitis and increase perforation risk. However, there is no data to support this practice. A large 18-year prospective study showed that nut, corn, and popcorn consumption did not increase risk for diverticulitis or diverticular complications (bleeding) but may have been protective against diverticulitis.
In the past, patients with colon pockets were placed on a special diet in the mistaken belief that this would help to prevent complications of the pockets. We now know that it is okay to eat seeds, nuts, tomatoes, strawberries, popcorn, etc., and that this will not increase the likelihood of developing one of the rare complications of diverticulosis.

This is true even in patients who have had a previous episode of diverticulitis or bleeding. Colon pockets are caused by increased pressure in the colon due to low dietary fiber. A diet high in fiber will help reduce this pressure; more pockets will be less likely to form and complications less likely to occur.

This dietary fiber is found in unprocessed grains such as bran and is not found in sufficient quantities in vegetables such as peas and carrots. Therefore, your doctor will likely recommend starting you on a fiber supplement such as Metamucil, Citrucel, or FiberCon (calcium polycarbophil).
Continue Learning about Diverticulitis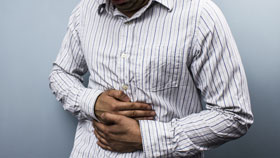 Diverticulitis occurs when diverticula (small, bulging pouches in the digestive tract) become infected or inflamed. Some signs of diverticulitis include severe pain, bloating that persists for weeks, constipation and blood in your ...
stool. Treatment includes changes in diet, antibiotics and surgery.
More