Eating fiber-rich foods, vegetables, vitamin-rich foods, healthy fats, water and water-rich foods can help keep your colon healthy. These add bulk and assist the passage of waste material.
There are lots of foods that can help keep your colon healthy. A healthy colon needs plenty of fiber. Beans or legumes, whole grains, and fruits and vegetables, and seeds and nuts all contain plenty of fiber and help to prevent constipation. Constipation should be avoided. Drink plenty of water and other liquids too.
To keep your colon in good shape, get screened for colon cancer on a schedule recommended by your doctor. And here are some specific diet do's:
Eat apples. In a lab study, apple pectin increased levels of butyrate, a fatty acid that not only keeps colon tissue healthy but also slows the production of a cancer-causing substance. Apple juice extracts amped up butyrate as well.
Load up on whole grains for fiber.
Drink milk instead of soda. Calcium and vitamin D protect your colon, but sugar seems to do the opposite.
Add sliced onions to a salad or sub. You may need to carry breath mints everywhere, but boosting your cancer defenses is worth it.
There's an ingredient in food that can help keep your colon healthy - want to know what it is?

Watch the video to learn from Dr. Oz what you should eat to keep your colon healthy.
Continue Learning about Digestive Health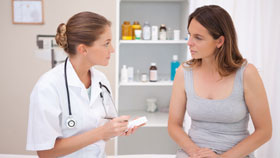 The digestive system includes all parts of the body that process food and expel waste, from your mouth to the end of your digestive tract. Diseases of the gastrointestinal tract prevent your body from effectively using the food yo...
u eat. Learn more about digestive health from our experts.
More