Jared Frattini, MD from Medical Center of Trinity discusses surgical treatment options for rectal prolapse. Watch this video to learn more.
There are a variety of surgical options for treating rectal prolapse -- the falling-out of the rectum because of muscle weakness. If it is not treated, this condition can cause permanent damage to the sphincter. If it is surgically repaired, however, fecal incontinence may become much less severe, and, in many cases, it will be entirely cured.

The particular option that you are offered will be based -- among other things -- on your health. In general, younger, healthier patients will be offered an operation that involves an abdominal incision and removal of part of the bowel. This surgery can be done either through a traditional open incision or by using laparoscopy (a camera-aided surgery that results in a very small scar). In general, older patients will be offered a simpler surgery, through the anus. In this case, the protruding rectal tissue will simply be cut off, so it does not stretch the anal sphincter. Both surgeries work well in the short term. However, an abdominal surgery is generally preferable, if possible, because it lasts longer.
Continue Learning about Digestive Health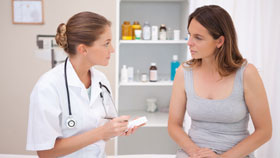 The digestive system includes all parts of the body that process food and expel waste, from your mouth to the end of your digestive tract. Diseases of the gastrointestinal tract prevent your body from effectively using the food yo...
u eat. Learn more about digestive health from our experts.
More