A healthy gastrointestinal system (GI) will process food and eliminate waste material from the body efficiently. Efficient GI functioning is evident in the amount of time it takes to digest food and in the appearance of the stool. The consistently healthy appearance of stool and regular frequency of bowel movements suggests a healthy GI system.
A healthy individual typically digests food in 24 to 45 hours. Healthy stool is soft and plump, and sinks to the bottom of the toilet. The stool should be easy to pass, with a consistency that is not too dry or too watery. Color varies depending upon diet, but should not be black and tarlike, pale gray, or yellowish. The consistency, color, and frequency of stool reflect many aspects of health, including diet, hydration, use of medications, and presence of medical conditions.
Continue Learning about Digestive Health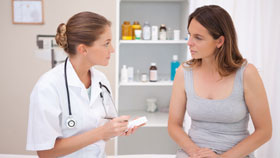 The digestive system includes all parts of the body that process food and expel waste, from your mouth to the end of your digestive tract. Diseases of the gastrointestinal tract prevent your body from effectively using the food yo...
u eat. Learn more about digestive health from our experts.
More