Let's look down into the toilet and do a self-test (c'mon, you're alone anyway).

The optimum caca enters the water like Greg Louganis-no splash. It should be S-shaped (the shape of your rectum as it nears your anus), as opposed to gumball-size pellets. If it's not the proper shape, it's a sign that your intestines aren't working as properly as they could be.

You can also do the sound test. You want to hear the sound of a basketball going through the net (swish!) rather than machine-gun rounds (pop-pop-pop-pop-pop-pop-pop!). Ideally, it should still be attached to you when it hits the water. Fiber and liquids will help keep systems moving.

And, of course, you'll want to check to make sure there's no blood in your stool, which can be a sign of hemorrhoids (not so bad) as well as colon polyps (plenty bad if you don't have them removed; they turn into colon cancer).

Considering that you produce more than 1,000 pounds of caca every year-that's the approximate weight of a concert grand piano-this is one of the best self-diagnostic tools you can use to measure your intestinal health.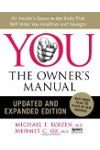 Continue Learning about Digestive Health