Barrett's esophagus is a pre-cancerous condition affecting the lining of the esophagus (the tube that carries food from the mouth to the stomach). Ablation (or coagulation) is a technique where tissue is heated until unwanted cells lining the esophagus are destroyed.

Treatment of Barrett's esophagus using ablation usually takes place over several sessions and follow-up visits.

In the first treatment, the entire area in the esophagus that is affected will be treated. This is called a circumferential treatment. Depending on how much area of the esophagus is involved, there may be more than one circumferential treatment needed.

Follow-up treatments are needed to ensure that all areas of Barrett's esophagus have been treated. During the follow-up treatment, you only may need "spot" treatment of abnormal tissue areas still present.

Usually, the first follow-up treatment is needed within six to eight weeks of the first treatment. Depending on the nature of the Barrett's, you may need multiple spot treatments.
Continue Learning about Digestive Health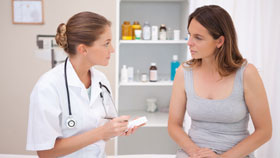 The digestive system includes all parts of the body that process food and expel waste, from your mouth to the end of your digestive tract. Diseases of the gastrointestinal tract prevent your body from effectively using the food yo...
u eat. Learn more about digestive health from our experts.
More