Some of the risk factors for gallbladder disease include being female, over age 60, overweight or obese or pregnant. Other risk factors are having family members with gallbladder disease and having diabetes. Certain ethnic groups are more likely to get gallbladder disease, such as Native Americans and Mexican Americans. There are also dietary factors that can contribute, such as eating a lot of foods that are high in cholesterol and fat and low in fiber.
The following factors may increase your risk for developing gallbladder disease:

- obesity
- pregnancy
- being female; women are two to three times more likely to develop gallbladder disease than men
- diabetes
- certain malabsorption disorders that affect normal digestion
- having sickle cell disease
- your race; African Americans,for example, have a higher risk of gallbladder disease than people of other races
- a strong family history (other people in your family have had gallbladder disease and/or had their gallbladders removed)
Family history -- your genetic makeup -- is the primary risk factor for gallbladder disease. Other factors that increase your risk include the sudden gain or loss of weight and pregnancy.
Continue Learning about Digestive Health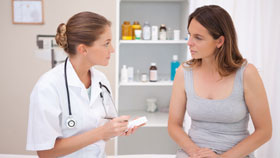 The digestive system includes all parts of the body that process food and expel waste, from your mouth to the end of your digestive tract. Diseases of the gastrointestinal tract prevent your body from effectively using the food yo...
u eat. Learn more about digestive health from our experts.
More