The gallbladder stores extra bile in the body, says Kevin Rayls, MD, a general surgeon at Southern Hills Hospital. In this video, he describes how bacteria can become lodged in the gallbladder, causing complications.
The primary function of the gallbladder, an organ located at the base of the liver, is to help you digest your food. It aids in digestion by storing bile, a fluid made by the liver that helps in the digestion of fats. When you eat a meal, your gallbladder contracts to release the bile into the small intestine where it helps to digest fat you have consumed in foods.

A second function of the gallbladder is to concentrate bile so that it can store more of it. Your gallbladder can hold up to about 50 milliliters of bile at a time. However, your liver produces between 250 to 1,000 milliliters of bile per day, depending on what you eat. By making the bile more concentrated, the gallbladder can store more of it so that the bile is ready when you need it to digest food.
As part of the bile system, the gallbladder stores bile, which are the digestive fluids produced by the liver. The gallbladder regulates the release of bile, depending on how much we eat.
Continue Learning about Digestive Health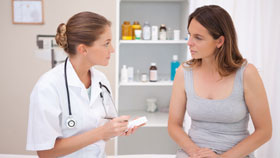 The digestive system includes all parts of the body that process food and expel waste, from your mouth to the end of your digestive tract. Diseases of the gastrointestinal tract prevent your body from effectively using the food yo...
u eat. Learn more about digestive health from our experts.
More