Bowel health is reflected by stool (poop). When there is colon inflammation, the stool may be diarrhea (loose or watery and more frequent). There are several common causes of inflammation in the colon including ulcerative colitis and Crohn's disease, bacterial infections, and poor blood flow to the colon.
Both inflammation and tumors can cause blood in the stool although the most common cause of bleeding is hemorrhoids, a benign condition. Constipation, which may cause hard, pellet-like stools, is usually due to slow movement of stool through the colon.
Either prolonged diarrhea or constipation are reasons to see your doctor for evaluation of the cause.
Continue Learning about Digestive Health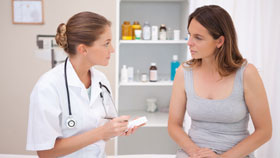 The digestive system includes all parts of the body that process food and expel waste, from your mouth to the end of your digestive tract. Diseases of the gastrointestinal tract prevent your body from effectively using the food yo...
u eat. Learn more about digestive health from our experts.
More