Gallbladder disease is caused by inflamation of the gallbladder. This typically happens when the gallbladder cannot excrete bile due to gallstones.

The gallbladder forms bile to dissolve cholesterol. If your liver excretes more cholesterol than your bile can dissolve, however, the excess cholesterol may form into crystals and eventually into stones. The gallstones can also be caused by bilirubin, which is a chemical formed by the breaking of red blood cells.
Gallbladder disease is any type of dysfunction of the gallbladder, the small organ located just below your liver in the upper right side of your abdomen.

In normal digestion, your liver releases a digestive fluid called bile into your gallbladder, where the bile is concentrated and stored. Then, when you eat a meal, your gallbladder squeezes just the right amount of bile into your intestine to help in the digestion of that food.

Most gallbladder disease is caused by one of two problems: acalculous disease, in which the squeezing function of your gallbladder is not working correctly (causing too little bile released into your intestine), or calculous disease, in which gallstones form in your gallbladder, causing blockages, inflammation and possibly other problems.

In rare cases, gallbladder disease can be caused by other problems, such as cancer of the gallbladder or blood flow problems in and out of the gallbladder.
Gallbladder problems are usually genetic. When we examine people with gallbladder disease, we usually learn about other family members who have faced the same situation, including parents or siblings.

Some gallbladder problems develop when the liver produces bile -- digestive fluid -- that is too thick. The gallbladder is the storage tank for the bile, and when stored, digestion fluids can separate into layers. It's a little bit like Italian dressing sitting on the shelf for a while, with the oil and vinegar separating. When that process takes place inside the gallbladder, the separation enables little crystals to develop, and gallstones take shape from those crystals.

Gallstones can lead to pain during meals. What's more, the stones can get stuck severely, leading to inflammation and infection of the gallbladder.
Continue Learning about Digestive Health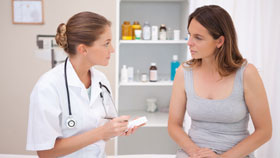 The digestive system includes all parts of the body that process food and expel waste, from your mouth to the end of your digestive tract. Diseases of the gastrointestinal tract prevent your body from effectively using the food yo...
u eat. Learn more about digestive health from our experts.
More