Insufficient fiber in the diet, diverticulosis, bowel spasm or excessive straining are common causes of a change in stool shape. Diverticulosis causes pothole-like craters in the lining of the colon, as well as a narrowing of the internal diameter of the colon due to wall thickening. The result is narrow, pellet-like stools that often fall apart in the bowl and can be difficult to expel. Other associated symptoms of diverticulosis include a dull ache in the lower abdomen, a feeling of incomplete evacuation even though you may be having multiple bowel movements, and lots of gas and bloating. Endometriosis, uterine fibroids, masses in the abdomen or tumors in other organs, like the ovaries or bladder, can cause thin stools due to external compression of the colon. Colon cancer definitely needs to be excluded by a colonoscopy in anyone experiencing new onset of pencil-thin stools, which can occur as a tumor gets larger and grows inward, reducing the colonic diameter.
Continue Learning about Digestive Health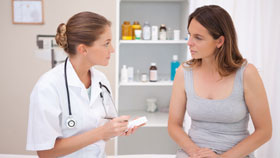 The digestive system includes all parts of the body that process food and expel waste, from your mouth to the end of your digestive tract. Diseases of the gastrointestinal tract prevent your body from effectively using the food yo...
u eat. Learn more about digestive health from our experts.
More