The main symptoms would be abdominal pain and enlargement. The pain and swelling are caused by leakage of bile into the belly, which is very irritating. Yellow coloration of the urine and skin (Jaundice) can occur after several days.
The most common cause of a torn bile duct is an injury (biliary trauma):
A complication following surgery to remove the gall bladder, which is more common after the gall bladder is removed with a scope (laparoscopic cholecystectomy) than with open abdominal surgery
Blunt injury to the lower right side of the chest and/or upper right abdomen, such as by the steering wheel in a car accident or a fall
Penetrating injury to these locations, such as with a bullet or knife
Continue Learning about Digestive Health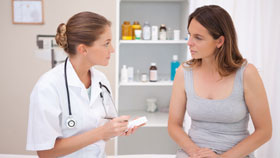 The digestive system includes all parts of the body that process food and expel waste, from your mouth to the end of your digestive tract. Diseases of the gastrointestinal tract prevent your body from effectively using the food yo...
u eat. Learn more about digestive health from our experts.
More