Commonly, abdominal pain is a symptom of oesophageal ulcers. This pain tends to be located below or behind the breastbone, in a similar location to heartburn pain. Ulcer pain can be unreliable. Sometimes it is worse at night or can be relieved by eating certain foods. In other cases, the pain may go away for a time and then come back. Generally, though, symptoms of oesophageal ulcers are not more serious than this. However, more serious symptoms can occur. These include vomiting blood or having blood your stool, losing weight, or being nauseated.
Continue Learning about Digestive Health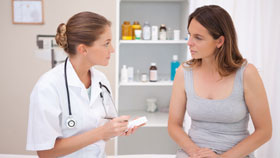 The digestive system includes all parts of the body that process food and expel waste, from your mouth to the end of your digestive tract. Diseases of the gastrointestinal tract prevent your body from effectively using the food yo...
u eat. Learn more about digestive health from our experts.
More