Living-donor liver transplantation has two major advantages over deceased-donor transplantation. First, there is an improved survival rate for the adult transplant recipients who received living-donor livers over deceased-donor livers. Secondly, the wait for transplantation can be greatly reduced.

Improved survival is thought to be related to optimal timing of transplantation. Living donor livers are healthy since they are only taken from donors in good physical condition. A living donor is carefully evaluated to ensure they have an optimal liver for the recipient. Living donor livers are immediately transplanted after being taken out of the donor. This short cold time is also thought to be important in the excellent outcomes of living-donor liver transplantation.

Nationally, nearly 17,000 individuals wait for liver transplantation, while only 6,700 deceased-donor organs, those coming from brain-dead donors, become available each year. With living-donor transplantation the timing of the transplant operation can be planned and the progression of the recipient's liver disease and its life-threatening complications can be avoided.
Continue Learning about Digestive Health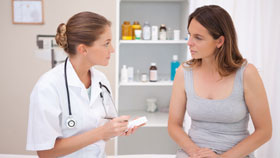 The digestive system includes all parts of the body that process food and expel waste, from your mouth to the end of your digestive tract. Diseases of the gastrointestinal tract prevent your body from effectively using the food yo...
u eat. Learn more about digestive health from our experts.
More