Achalasia is a swallowing disorder that causes patients to experience difficulty with food passing from the esophagus into the stomach. Although the entire esophagus is affected, treatments focus on allowing the lower esophageal sphincter to relax and allow food to pass into the stomach. This allows for proper patient nutrition, a more diverse diet and, importantly, relief of the pain and risk caused by the inability to clear the esophagus of undigested food.

Most treatments, including botox injection and balloon dilation, allow temporary relief. Excellent long-term relief can now be achieved by a simple surgical procedure to inactivate the muscle of the lower esophageal sphincter. A few small incisions on the abdomen allow access to the area. Using a robotic system through those tiny incisions, the muscle is safely divided and patients can resume eating the next day. This usually results in a one-night stay in the hospital.
Continue Learning about Digestive Health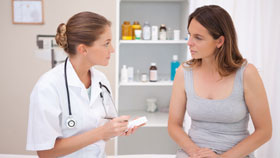 The digestive system includes all parts of the body that process food and expel waste, from your mouth to the end of your digestive tract. Diseases of the gastrointestinal tract prevent your body from effectively using the food yo...
u eat. Learn more about digestive health from our experts.
More