The role of the pancreas in digestion is to make enzymes that are needed to help break down food. Enzymes are stored in the pancreas until a person has a meal. The pancreas has an opening that is normally covered in a thin and watery mucus. The enzymes flow easily through this opening into the small intestine where they're needed to help digestion. The pancreas is located near the small intestine.
The pancreas contains exocrine glands that produce enzymes important to digestion. When food enters the stomach, these pancreatic juices are released into a system of ducts that culminate in the main pancreatic duct. The pancreatic juices and bile that are released into the duodenum help the body to digest fats, carbohydrates, and proteins.
Continue Learning about Digestive Health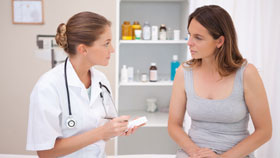 The digestive system includes all parts of the body that process food and expel waste, from your mouth to the end of your digestive tract. Diseases of the gastrointestinal tract prevent your body from effectively using the food yo...
u eat. Learn more about digestive health from our experts.
More