Following pancreas transplant surgery, transplant recipients are taken to the surgical intensive care unit (ICU). When they awaken, they are attached to special equipment including a ventilator that helps them breathe and several tubes and drains to remove fluid from the body.

Advances in anti-rejection medications have led to shorter hospital stays and improved outcomes following pancreas transplantation. The current average length of stay for a pancreas transplant is seven to ten days.
After pancreas transplant surgery, patients begin their recovery in an intensive care setting. There they are closely monitored for approximately two days (or as long as needed), after which they are transferred to the Transplant Unit for the remainder of their hospitalization.

Immediately following the surgery, patients may have pain. This will be carefully monitored and controlled by the transplant care providers. Most transplant recipients have a significant reduction in pain two to three days after surgery. Intermittent pressure boots or sleeves around the legs are used to prevent blood clots.

On average, patients leave the hospital about seven to ten days after surgery. Length of stay in the hospital can vary depending on the severity of illness prior to transplant or complications after surgery.

Patients will continue their recovery after leaving the hospital. For the first four to six weeks, patients will have some restrictions on daily activities.

During the recovery period, the transplant team closely follows each patient's progress. Transplant recipients will need to be monitored on a long-term basis, and must return to the hospital regularly for examinations, laboratory tests and abdominal scans: the usual schedule calls for follow-up visits twice a week for the first month, once a week by month two, and every other week by month three. Every effort is made to transition patients' routine medical care to their primary nephrologist/endocrinologist. Although the intervals between follow-up visits will become longer, patients will continue to be followed in the transplant clinic for life. For most patients, this involves frequent lab work and a yearly clinic visit. Patients who develop complications may need to be seen more often by the transplant team.
Continue Learning about Digestive Health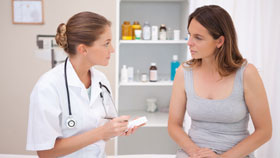 The digestive system includes all parts of the body that process food and expel waste, from your mouth to the end of your digestive tract. Diseases of the gastrointestinal tract prevent your body from effectively using the food yo...
u eat. Learn more about digestive health from our experts.
More