Pop a grape, chocolate, or shrimp into your mouth. Immediately, digestion begins. In the mouth itself, the tongue and teeth help to get the process started by chewing and chopping the food so it's small enough to be swallowed. Salivary glands secrete saliva, releasing an enzyme that changes some starches into simple sugars and softens the food for swallowing. The saliva also allows the taste buds of the tongue to sense the flavors of your foods.

Swallowing is a complicated, coordinated act that begins when your tongue pushes food back into your throat or pharynx. This voluntary action sets off an involuntary chain of events that transports the food from the throat into the esophagus and down into the stomach, a journey that typically takes eight seconds.
Continue Learning about Digestive Health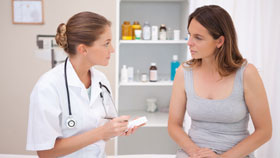 The digestive system includes all parts of the body that process food and expel waste, from your mouth to the end of your digestive tract. Diseases of the gastrointestinal tract prevent your body from effectively using the food yo...
u eat. Learn more about digestive health from our experts.
More