It is difficult to diagnose a Meckel's diverticulum, especially in adults, because the condition mimics so many other conditions, like appendicitis. However, doctors first consider a Meckel's diverticulum ulcer based on symptoms like rectal bleeding and stomach discomfort. Doctors can confirm their hunches by looking for inflammation of the pouch, blockage of the intestine, or by performing a radionuclide scan. In a radionuclide scan, the doctor injects a radioactive liquid into your body. You have a diverticulum if the liquid is recognized by the pouch.
Continue Learning about Digestive Health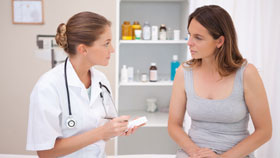 The digestive system includes all parts of the body that process food and expel waste, from your mouth to the end of your digestive tract. Diseases of the gastrointestinal tract prevent your body from effectively using the food yo...
u eat. Learn more about digestive health from our experts.
More