Some transplant centers perform living donor liver transplants. If you are considering donating a part of your liver to a friend or family member, contact the person's transplant center for more information. If the transplant candidate does not yet have a transplant center, contact centers in the candidate's area for information.

Donating a section of a liver is riskier than kidney donation, and much less common. Transplanting a piece of the liver works because the liver regenerates itself in both the donor and recipient after transplantation.

Besides being in excellent physical and psychological health, the liver donor must undergo extensive examinations and testing. A radiological imaging of the liver is done to assess the anatomy, liver volume and size. A liver biopsy may be performed.

Most often parents donate a piece of a liver to a child. Adult-to-adult live liver transplant is still relatively rare.

It is recommended that you talk to your transplant center about its experience and success rates, which can give you critical information to help you make a decision. You can find statistics and information about living donation on the United Network for Organ Sharing (UNOS) web site at www.transplantliving.org.
The anatomy of the liver allows it to be divided and a portion transplanted into another individual during a living donor liver transplant. The liver has the unique ability to grow and regenerate after a segment is removed.
Continue Learning about Digestive Health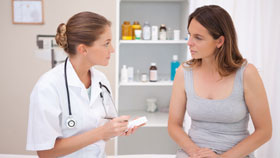 The digestive system includes all parts of the body that process food and expel waste, from your mouth to the end of your digestive tract. Diseases of the gastrointestinal tract prevent your body from effectively using the food yo...
u eat. Learn more about digestive health from our experts.
More