A duodenal ulcer has a direct effect on a person's duodenum lining, or the lining of the small intestine. In fact, the disorder occurs when the small intestine lining cannot repair itself or resist the bacterial that tends to cause sores. Duodenal ulcers can be present for several years, with pain re-occurring in patterns.
Individuals with ulcers also have risks that others dont have to worry about. The duodenal ulcer may penetrate the small intestine and affect a nearby organ, causing intense pain. Bleeding, which can be serious and require a blood transfusion, and rupture may also occur. People who have duodenal ulcers are more likely to develop cancer than people without the disorder, and infection of the abdominal cavity is more likely.
Continue Learning about Digestive Health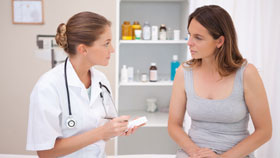 The digestive system includes all parts of the body that process food and expel waste, from your mouth to the end of your digestive tract. Diseases of the gastrointestinal tract prevent your body from effectively using the food yo...
u eat. Learn more about digestive health from our experts.
More