Twisting of the intestines can be used to describe a few different problems.
One type of twist or kink is called a small bowel obstruction. This usually happens after a patient has had an abdominal operation like appendectomy, hysterectomy, or colon removal which leads to scar tissue or adhesions developing in the abdomen. The intestines can be come twisted, kinked, or obstructed around this scar tissue. This condition, called a small bowel obstruction, may require surgery for treatment in 20% of patients. Small bowel obstruction can also occur as the result of a hernia.
Another type of intestinal twist is called a volvulus. This usually occurs in the colon, where a segment of the colon rotates 180 degrees like a roller coaster loop. This causes a blockage of the colon and may pinch off the blood supply to the colon. This problem usually requires a sigmoidoscopy and an operation for treatment.
Continue Learning about Digestive Health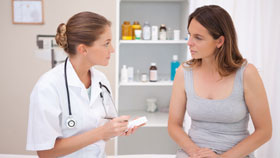 The digestive system includes all parts of the body that process food and expel waste, from your mouth to the end of your digestive tract. Diseases of the gastrointestinal tract prevent your body from effectively using the food yo...
u eat. Learn more about digestive health from our experts.
More