A refractory ulcer can be a sign of a bigger problem, like stomach cancer. If you're caring for someone with a refractory ulcer, it's important to make sure that person is tested for other conditions. Also, it's important that the person you are caring for go to the doctor to assess what is keeping the ulcer from healing. Without following these steps, the person you are caring for likely will not be able to heal. Additionally, much of the care for refractory ulcers consists of lifestyle choices. Make sure you understand the advice that the doctor gives the person you are caring for and follow any treatment plan.
Continue Learning about Digestive Health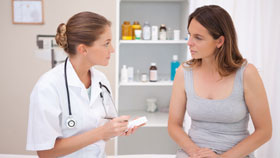 The digestive system includes all parts of the body that process food and expel waste, from your mouth to the end of your digestive tract. Diseases of the gastrointestinal tract prevent your body from effectively using the food yo...
u eat. Learn more about digestive health from our experts.
More