Outside factors, in addition to what we eat, affect bacteria balance ("gut flora"). Antibiotics ("anti" meaning against, and "biotic" meaning bacteria vs. "pro" meaning for, or good, "biotic") get rid of the good with the bad so even one dose of antibiotics can upset the desirable ratio of bacteria. This doesn't happen immediately, but it does occur exponentially week after week due to how quickly bacteria replicate. So if we don't replenish the good bacteria, the bad can get an advantage right off the bat once the antibiotic's action wears off. Many of us were given antibiotics frequently as children (to treat ear and throat infections) or as young adults for skin problems. It's very common for doctors today to treat adult patients complaining of gastrointestinal (GI) problems and learn that their issues stem from a lifetime of periodic or even chronic antibiotic use that caused an imbalance in their gut flora. What's more, today's food and water technology makes it difficult to avoid getting secondhand exposure to antibiotics by eating animals and even drinking water in some places that have been treated with antibiotics.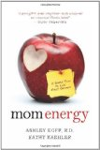 More About this Book
Mom Energy: A Simple Plan to Live Fully Charged
       From celebrated dietitian Ashley Koff and fitness trainer to the stars Kathy Kaehler comes Mom Energy, an exciting new way for moms to tap into their own natural and renewable sources of...
Continue Learning about Digestive Health