This is fairly common with an estimated 20-50% of distance runners have "runner's trots" with a range of symptoms from cramping and nausea to bouts of flatulence and diarrhea. This can occur during or after exercise. There have been several suggested mechanisms from the up and down motion of running to the diversion of blood to the legs as possible causes. You can troubleshoot this problem in two ways. First, try to regulate your elimination pattern. By increasing the fiber, water and maybe even fat (if you follow a very low fat diet) you may be able to change the timing and go before you go out on your run. If that does not work, try not to eat high fibers foods, dairy, or caffeine the morning of a run (or race); as all three may speed up the movement of wastes through the intestines.
Continue Learning about Digestive Health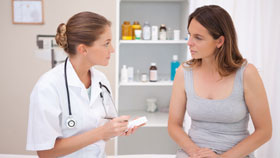 The digestive system includes all parts of the body that process food and expel waste, from your mouth to the end of your digestive tract. Diseases of the gastrointestinal tract prevent your body from effectively using the food yo...
u eat. Learn more about digestive health from our experts.
More